Instrumentation for Control of Boiler Operation
●For combustion control in the boiler, both the latest digital control thchnology and the conventional analog control technology are available.

●The burner management system has built-in safety features such as state-of-the-art technology for control of O2 supply and NOx emissions and measures to deal with instantaneous blackouts.

●The unit has been designed for remote operation using a TV monitor and data transmission.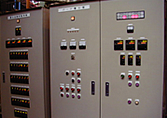 INV-F Type Inverter Control System
●Can be adapted to turndown ratio of 10 : 1
●Superior controllability and safety
●Capable of additional O2 trimming and inverter of splashing combustion pump.
●Applicable electric motor capacity : 0.4kw to 150kw