About NIPPON FURNACE CO., LTD.
Corporate Name
NIPPON FURNACE CO., LTD.
Established
Oct.1,2006
Business succession from NIPPON FURNACE KOGYO KAISYA.,LTD
President
Susumu Mochida
Capital
100 Million Yen (as of April.2017)
Registered Head Office
2-6,Futatsuya-cho,Kanagawa-ku, Yokohama City, Kanagawa Prefecture, 221-0823 Japan
Contact
TEL.+81-45-872-8111
FAX.+81-45-610-3940
E-mail.webmaster@furnace.co.jp
Business Outline
Process Plant Business
Since its founding, the company has designed and manufactured numerous combustion and heating systems for petroleum refineries and petrochemical plants, as well as for a variety of industrial plants such as cement kilns. In recent years, the company has been applying its expertise in process engineering and combustion to the design and construction of highly efficient equipment for environmental plants such as industrial and municipal waste incineration plants and deodorization plants.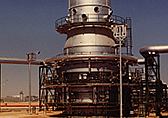 Industrial Furnace Business
Industrial furnace business has also been started at the same time of NFK's establishment together with burners & combustion equipment business. NFK at the beginning introduced the technology of Heavy Duty Inc. in the US and Birlec Limited in the UK and then has succeeded to develop various kind of original designed heat treatment furnaces. The typical example of them is so called High Performance Industrial Furnaces which are equipped with regenerative burners incorporating a ceramic honeycomb and this technology has been contributing to environmental protection as CO2 and NOx reduction. Especially the patented regenerative radiant tube furnaces in the middle and high temperature range are unique and competitive designed ones and have been receiving client's satisfaction.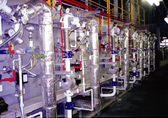 Maintenance service, Supply for spare part
We provide for the customer who introduced the products to after follow.
In addition to our special engineer team have capable fine maintenance service for the customer by cooperating with special engineer team ( Furness ES which is our group company).
Furthermore, the special staff who can reply to a demand of a customer is waiting for the enquiry from you.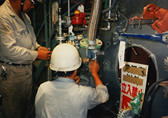 Product Data