NFK AH type Hot Air Generator
本炉は経済的な二重円筒型の熱風発生炉です。
【熱風温度】
250℃〜900℃
(これ以外の温度も条件によっては対応可能です。)
【燃料】
ガス、油のほか、微粉炭などの固形燃料にも対応できます。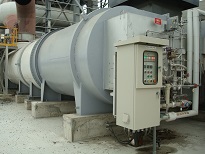 FCC/RFCC Air Heater
An air heater used for starting up the Fluid Catalytic Cracking Unit and Residue Fluid Catalytic Cracking Unit. NFK has provided over 30 units to the world famous processes such as UOP, EXXON. SIRM and S&W.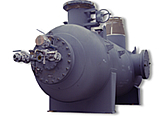 Fired Heater (Air heater)
A wicket and natural draft type heater with three sets of upward vertical burners on its furnace bed.


Fluid : High pressure air
Capacity: 32,400 kg/h
Inlet Condition: 60°C, 500KPa
Outlet Condition: 440°C,494KPa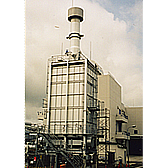 High Pressure/Enthalpy intensified Combustor
(High-pressure Hot Air Generator)
Constructed completely of metal, this combustor is designed for high pressure/highly intensified air generation.


Pressure: MAX. 1.0 MPa.
Temperature: MAX. 1,000C
Combustor load : 0.58 MW/m3 at pressure of 0.5Mpa (depending on operating pressure)


This air generator can reach the maximum enthalpy condition within two minutes after ignition because of its all metal construction.
Furthermore, there is no risk of Solid matter dispersion into the slipstream because of its noncastable refractories construction.