HRS-RT Mesh-belt type Heat Treatment Furnace
The HRS-RT burner with gas fueling can reduce operating costs by 66% to 75% compared to conventional electric heaters, without affecting furnace operation. The tube type used is in accordance with the combustion capacity and size of the furnace.
There are U-tubes, W-tubes and straight tubes tubes which range in diameter from 3 to 5 inches.


【Applications】
・Non-oxidizing furnaces
・Annearing furnaces
・Brazing furnaces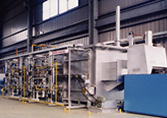 HRS-DL Retractable Type Heat Treatment Furnace
A batch operation heat treatment furnace with a cover on top. The cover is attached with a hinge mechanism for opening and closing making it suitable for handling of long-sized materials. Although the HRS-DL Retractable Type Heat Treatment Furnace has no charging door,it has several merits such as minimum leakage loss and easy maintenance of the interior. The standard model is equipped with the HRS-DL burners. However, depending on design specifications, the HRS-RT(Radiant tube) burners can used.


【Applications】
Annealing, hardening of long-sized material
HRS-DL Roller Hearth Type Heat Treatment Furnace
A continuous heat treatment furnace equipped with an HRS-DL (direct type) regenerative burner.
The temperature inside the furnace is equalized due to flameless combustion ,is a special feature of regenerative burners. In addition, the furnace can be operated under de-oxidizing condition which minimizes scaling.

【Applications】
Hardening, normalizing and annealing of steel bars and hardening of non-ferrous materials.
HRS-DL Programmable Continuous Heat Treatment Furnace
A furnace equipped with HRS-DL burners which can be programmed for temperature incremental operation starting from room temperature in continuous heat treatment operation. The furnace is especially suitable for heating of special ceramic materials, in which case the difference between the temperature of the work and temperature of the furnace cannot be so large.

【Applications】
Heat treatment furnace with programmed temperature incremental and cooling operation.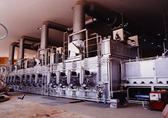 HRS-DL Bogie Type Annealing Furnace
A furnace equipped with HRS-DL (Direct firing type) regenerative burners.
The arrangement and number of burners is determined in accordance with the required operation.


【Applications】
Annealing, hardening, tempering,solution,baking and other heat treatments.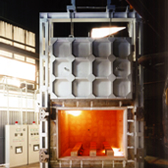 HRS-RT Batch Type Heat Treatment Furnace
A radiant tube type furnace equipped with regenerative radiant tube burners on the side walls, the hearth and the door realizes an equal heat distribution.
This type of furnace can be customized to suit the client's specifications.
【Applications】
Various heat treatments
HRS-DL Roller Hearth Annealing Furnace
A tray roller hearth type furnace with direct fired regenerative burners both in the upper and lower sides. It is designed taking full advantage of a roller hearth's special characteristics to reduce enerfy consumption in heating, normalizing, hardening and tempering operations.
【Applications】
Annealing, normalizing, hardening, tempering etc.
HRS-DL Metal Walking Beam Heat Treatment Furnace
Equipped with direct fired regenerative burners, it is designed for the heat treatment of round and flat bars. Equal heating,improved heating speed and energy savings can be achieved simultaneously.
【Applications】
Heating and reheating of steel materials etc.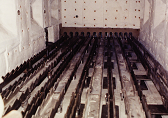 Rotary Hearth Aluminum Heat Treatment Furnace
2008; Received The Chairman's Award of Energy-Efficient Machinery Award from The Japan Machinery Federation
(UR Burner)
Products is transferred through the Furnace without the use of basket. This system greatly reduces energy require wants and saving in capital cost.

【Applications】

Alminum heat treatment (T2,T4,T5,T6 and T7)